| | |
| --- | --- |
| ← Previous Photo | Next Photo → |
Gold Hill School
Photographer: Unknown
Source: Facebook: Comstock Foundation for History and Culture
Available Sizes: 800x543 | 1000x679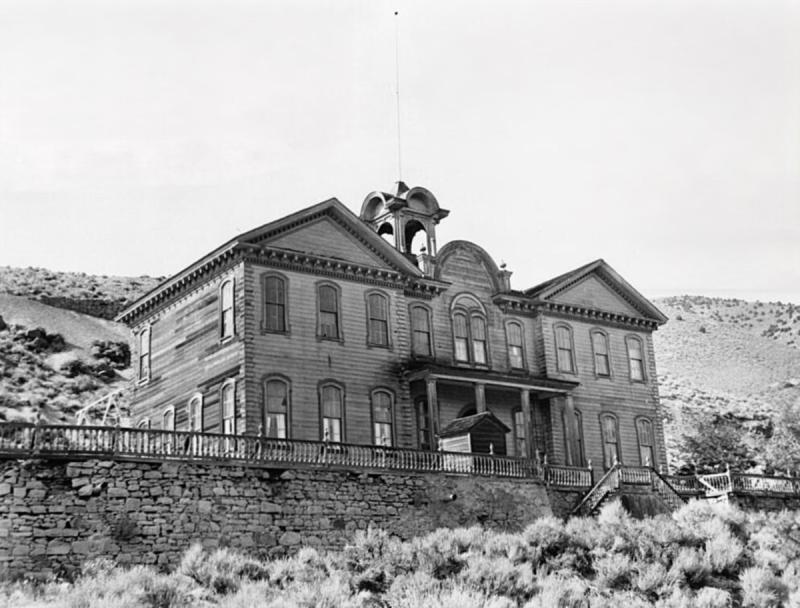 The Gold Hill School in Gold Hill. Burned in 1940.
Actions
⇓ Download This Photo
⇓ Embed This Photo
Date Uploaded: May 9, 2023
Permanent Link: http://wnhpc.com/details/fb1876361342619735
Contributor: Comstock Foundation for History and Culture on Facebook
Source: Facebook: Comstock Foundation for History and Culture
Source URL: https://www.facebook.com/Comstockfoundation/posts/pfbid02itQnDH2UKvvLz1Qr8o8ztu8BXGAtn1ERgT4cy8XQaojNjbNzGHuCNE5qNbgqZTGzl
Source Caption: A few weeks back, we posted on the Gold Hill School. Our friend, Ernie Winters of Comstock Photography, donated these images of the Gold Hill School ruins just south of the Crown Point Mill in Gold Hill. The Western Mining History image shows the east side of the school, in its later years. The rock wall is what's left today. The UNR Special Collections image shows the west side of the school, in the bottom right corner, during the heyday of Gold Hill. The remaining images from Comstock Photography show what's left today of this prestigious school from the Comstock Lode Era.