| | |
| --- | --- |
| ← Previous Photo | Next Photo → |
Depot Hotel
Date of photo: 1880s
Photographer: Nevada State Railroad Museum
Source: Facebook: Nevada State Railroad Museum, Carson City
Available Sizes: 800x477 | 1024x611 | 2048x1222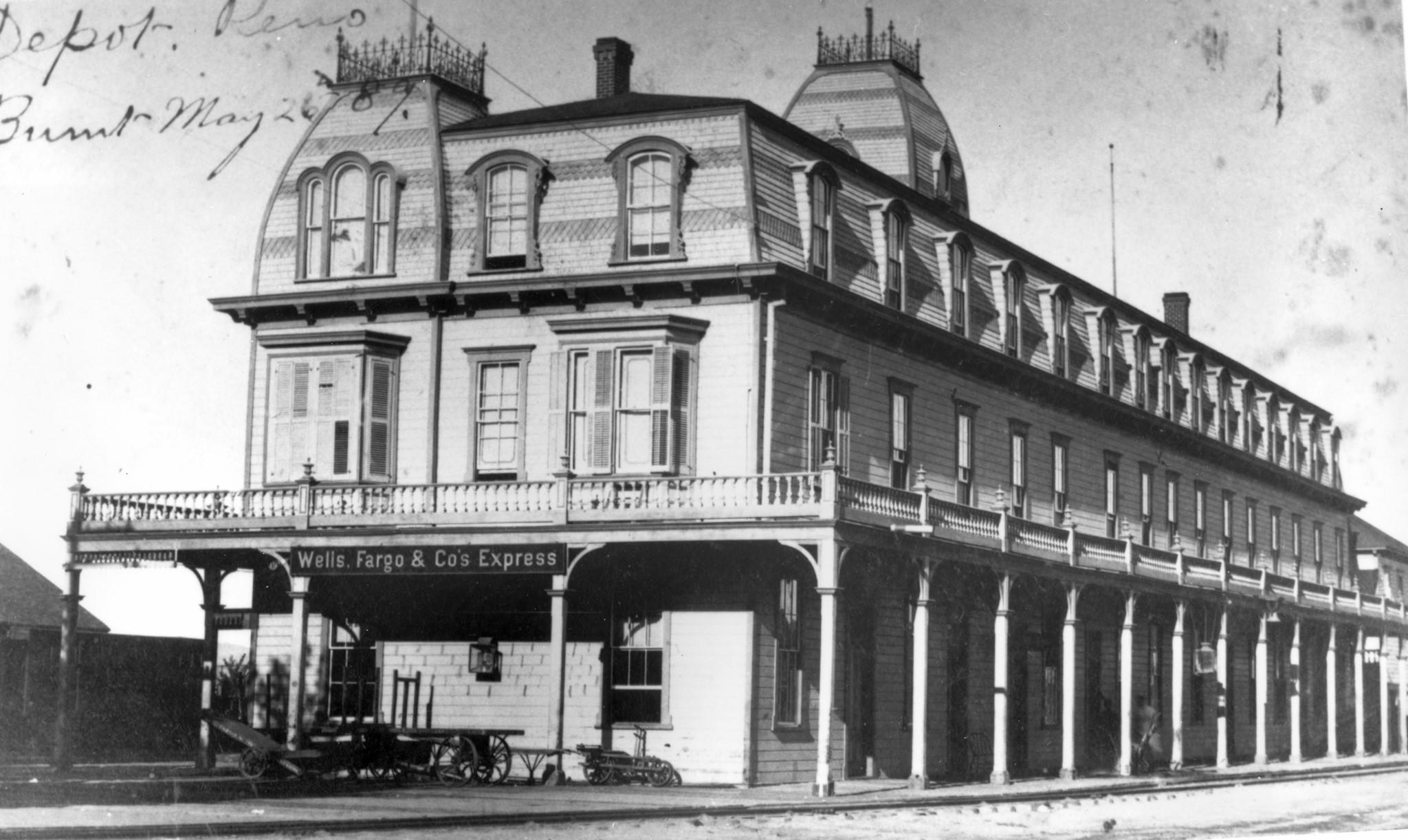 This hotel in downtown Reno doubled as the train station. It stood from 1879 to 1889 when it burned and was replaced by a smaller depot, without a hotel.
Actions
⇓ Download This Photo
⇓ Embed This Photo
Date Uploaded: May 30, 2020
Permanent Link: http://wnhpc.com/details/fb10157385412770669
Contributor: Nevada State Railroad Museum, Carson City on Facebook
Source: Facebook: Nevada State Railroad Museum, Carson City
Source URL: https://www.facebook.com/NSRMCC/photos/a.10150660061400669/10157385412770669/?type=3&theater
Source Caption: After the Great Reno Fire a new depot was built on the same site as the first. The Depot Hotel, constructed by W. R. Chamberlain, opened to the public on June 30, 1879. The three-story building was 65 feet tall, 32 feet wide, and 170 feet long and cost $25,000. It was constructed primarily of redwood and pine, and included a Mansard roof and a balcony that wrapped around the hotel on the secon...d floor. The Depot Hotel featured the latest amenities, such as a telegraph office, bar, restaurant, lavatories, water closets, fire suppression system, and fifty hotel rooms. Each room had a view of the mountains and received sunlight at some point during the day. The Depot Hotel was considered the finest "caravansary" between Omaha and San Francisco. On May 26, 1889, the Depot Hotel was lost in a fire that swept through the business district. A new depot would have to be built in its place.