| | |
| --- | --- |
| ← Previous Photo | Next Photo → |
Panorama of Virginia City, Nevada (No. 2) View from the Combination Shaft
Date of photo: Late 1870s
Photographer: Carleton Watkins
Source: California Digital Library
Available Sizes: 800x533 | 1024x682 | 2048x1365 | 3000x2000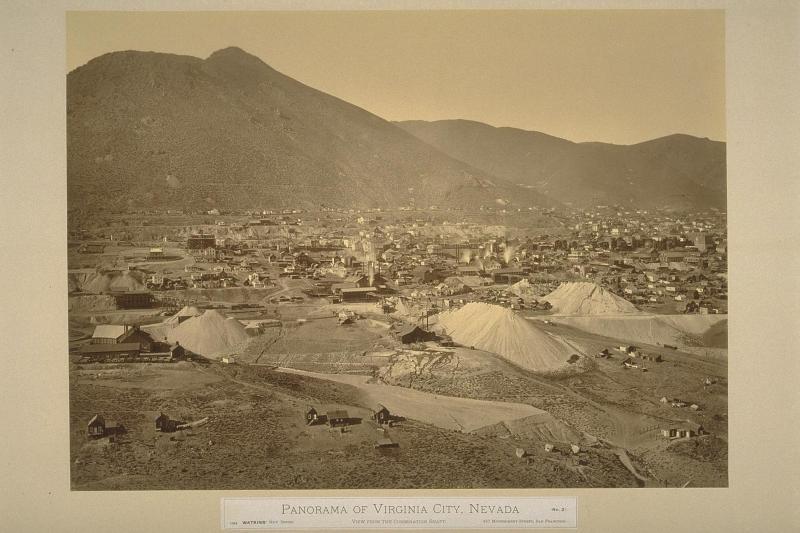 Hearst Mining Collection of Views by C. E. Watkins, 1871-1876
The second of a three-part panorama of Virginia City. This part looks west from the Combination Shaft, towards central Virginia City. At the far left you can see the Virginia and Truckee roundhouse. Further to the right a few tailing piles are actively being built up, and in the background you can see the Fourth Ward School and the business and homes of downtown.
Actions
⇓ Download This Photo
⇓ Embed This Photo
Date Uploaded: January 6, 2008
Permanent Link: http://wnhpc.com/details/watkins1102
Source: California Digital Library
Source URL: http://content.cdlib.org/ark:/13030/tf400006gd/
Source Caption: Title: Panorama of Virginia City, Nevada (No. 2) View from the Combination Shaft Collection: Hearst Mining Collection of Views by C. E. Watkins Contributing Institution: The Bancroft Library. University of California, Berkeley.