| | |
| --- | --- |
| ← Previous Photo | Next Photo → |
Aerial View of Carson City
Date of photo: 1960s
Photographer: Unknown
Available Sizes: 800x514 | 1024x658 | 2048x1316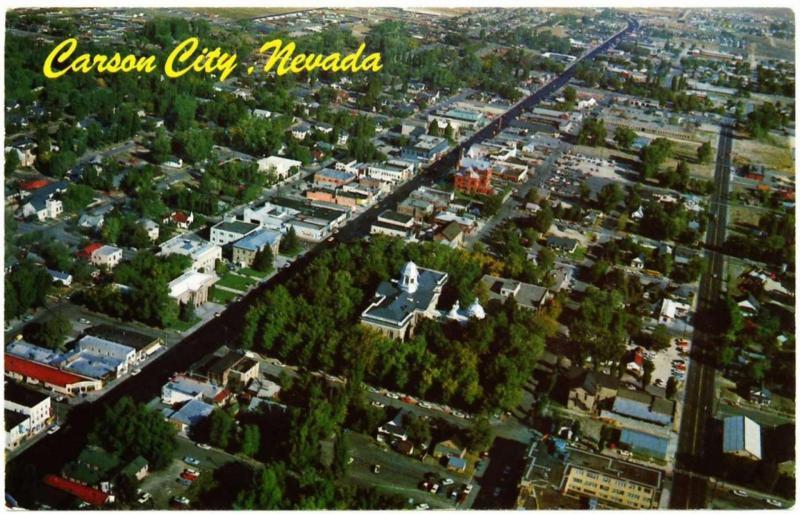 This postcard looks down at Carson City from on high sometime in the 1960s. Many landmarks are visible in this view, starting front and center with the Capitol's silver dome. Right above that gleams the red brick of the Post Office, now called the Paul Laxalt Building.
In the lower left corner is the white paint of the St. Charles Hotel, called the Pony Express Hotel at this point. Surrounding it is a cluster of old buildings, many of which were due to be torn down to make way for the Legislature Building across the street in 1971. In the lower right you can see the roof of the Nye Building, which was torn down for the new Supreme Court Building in 1990.
Downtown seems mostly unchanged from this distance, but you can see that the Senator Cafe is still there. It hadn't been torn down yet, and neither had the Arlington Hotel a few blocks to the north. The Arlington has the drab coat of blue-grey paint it wore in its last years.
To the east of downtown you can see all the houses in the neighborhood that was later torn down for the Nugget's huge parking lot. Above that is the V&T's stone enginehouse, and to the left of that is the Downtowner Motel. Although the City Center Motel across the street hasn't been built yet; that corner is still a dirt lot.
Things get harder to make out the further you go, but you can see where Carson Street curves at Hot Springs Road, with sagebrush beyond.
Actions
⇓ Download This Photo
⇓ Embed This Photo