| | |
| --- | --- |
| ← Previous Photo | Next Photo → |
Downtowner Motor Inn
Date of photo: 1970s
Photographer: Unknown
Source: Scanned Postcard
Available Sizes: 800x520 | 1024x666 | 1280x833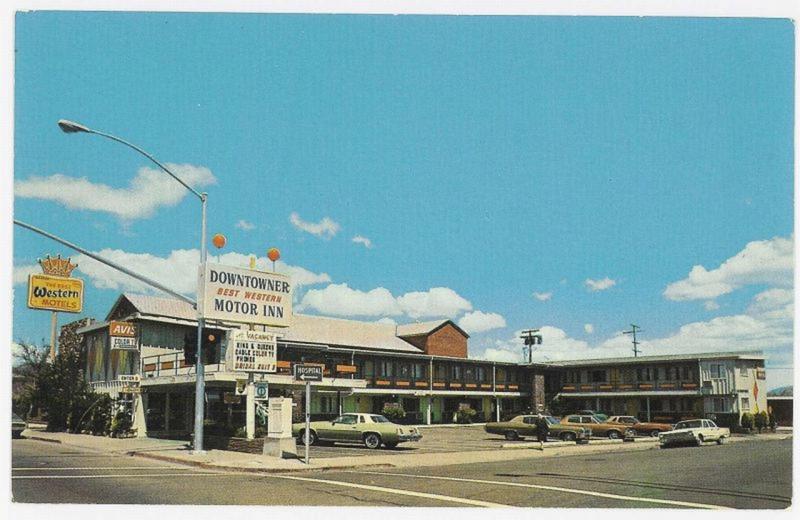 This is the Downtowner Motor Inn in downtown Carson City, at the northeast corner of Carson and Washington streets. From this angle it hides the Civic Auditorium, the red brick building that can be seen poking over the roofline in the background. The historic Virginia & Truckee train depot is across the street to the right.
This postcard is from the 1970s and shows the motel when it was still part of the Best Western chain; the gold crown sign rises up prominently on the left edge of the photo. Signs for Avis rental cars and Color TV stick out from the building. Another large sign sits at the corner, with a couple of decorative orange balls on top of it. The marquee advertises "King and Queens, Cable, Color TV, Phones, Bridal Suite." A small sign for Diners Club hangs off the pole. On the sidewalk a sign points the way to the hospital, located a few blocks west of here.
Some motel architecture from the 1960s is good, and some is bad. The Downtowner Motor Inn definitely falls in the "bad" category. About the only redeeming feature here are the colored diamonds, which can be seen at the ends of the building. The Downtowner has survived the decades and is still around in Carson today. The occupancy has shifted over the years from nightly to weekly and monthly rentals. It has developed quite a bad reputation as being a home for transients and other unsavory elements. It's also the only home that can be found for some people and families who are down on their luck. It was closed in 2005 by the Fire Department for a variety of reasons, most of them having to do with a lack of maintenance and upkeep. The motel was deteriorating in place, with people still living in it. After it was closed it sat unused for quite a long time, and many of us hoped the owners would give up on it and it would be demolished, eliminating an eyesore from downtown. But instead it was renovated, and repairs were made to the satisfaction of the fire inspectors. It reopened in 2007.
Actions
⇓ Download This Photo
⇓ Embed This Photo