| | |
| --- | --- |
| ← Previous Photo | Next Photo → |
Palace Gambling Hall Fire
Date of photo: March 1, 1909
Photographer: Jacob H. Judd
Source: eBay
Available Sizes: 800x503 | 1024x644 | 1200x755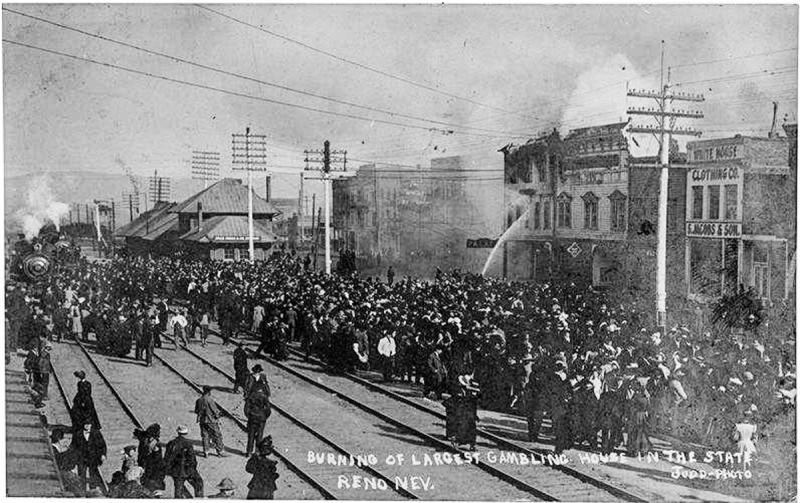 A fire at the Palace Gambling Hall in downtown Reno in 1909. The crowd is gathering on the railroad tracks to watch.
Actions
⇓ Download This Photo
⇓ Embed This Photo
Date Uploaded: June 10, 2019
Permanent Link: http://wnhpc.com/details/photo0593
Source: eBay
Source URL: https://www.icollector.com/Palace-Gambling-House-Fire-Reno-NV_i20353700
Source Caption: Wonderful, rare RPPC of the Palace Gambling House fire of March 1, 1909. Card has caption that reads: "Burning of Largest Gambling House in the State. RENO NEV." Photographer is Judd. Photo shows crowd standing on train tracks watching firemen hosing down the building. Card was used and mailed March 6, 1909, just five days after the fire! Card shows toning at front right. See pictures for detailed condition. The Palace started burning in the afternoon from unknown causes. A horse drawn pumper and hose carts were dispatched. Unfortunately for the owner, the fire chief showed up intoxicated, which certainly didn't help the firefighting efforts! The destruction totaled nearly $100,000.