| | |
| --- | --- |
| ← Previous Photo | Next Photo → |
Arlington Hotel
Date of photo: July 1953
Photographer: William C. Corbett
Source: Scanned Photo
Available Sizes: 800x532 | 1024x680 | 1800x1197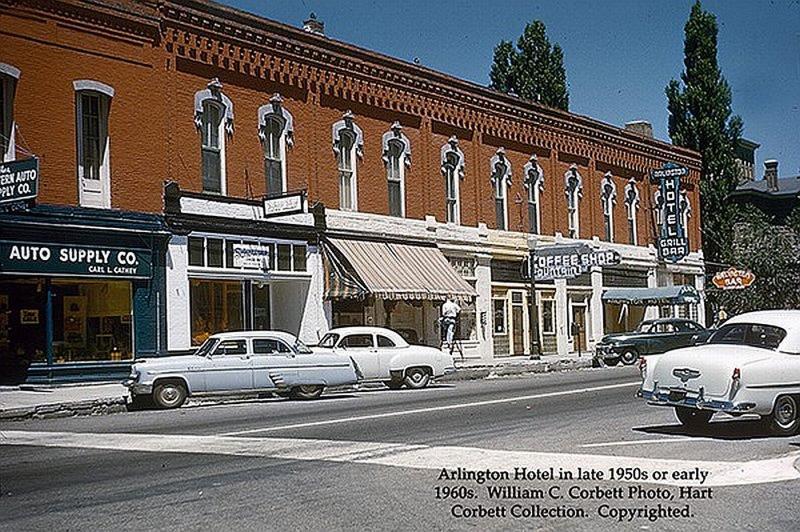 The red brick of the Arlington Hotel shines brightly in this color photo of downtown Carson. Here on the west side of Carson, between Spear and Robinson, are the hulking Arlington and the smaller Gray Reid Wright Building next door to the left. In that building is the Western Auto Supply Co., Carl L Cathey proprietor. Next door on the ground floor of the Arlington is the Scheri Shop, Lingerie and Novelties. Next to the guy on the ladder working on the awning you can see a barber's pole mounted on the building, and the next storefront down is the Coffee Shop. Then at the end of the building is the lobby for the hotel, and the Arlington Bar.
Actions
⇓ Download This Photo
⇓ Embed This Photo
Date Uploaded: May 7, 2008
Permanent Link: http://wnhpc.com/details/photo0006
Contributor: Hart Corbett
Source: Scanned Photo
Source Caption: Arlington Hotel in late 1950s or early 1960s. William C. Corbett photo, Hart Corbett Collection. Copyrighted.