| | |
| --- | --- |
| ← Previous Photo | Next Photo → |
Arlington Hotel Sidewalk
Photographer: Unknown
Available Sizes: 800x390 | 1024x499 | 2048x999 | 2861x1396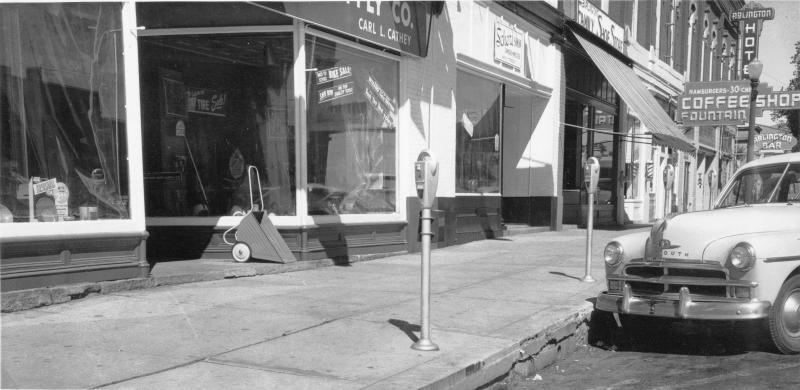 This is an intimate eye-level view of the sidewalk in front of the Arlington Hotel in Carson City. As such you can see plenty of details in the storefronts and windows. The hotel occupied the block on the west side of Carson Street, between Spear and Robinson. The photo was taken roughly from the corner at Spear.
When this photo was taken there was angle-in parking along Carson Street, and crumbling concrete along the curbs. Every spot has a parking meter.
The first storefront you see, on the far left, is the Western Auto Supply Co., Carl L Cathey proprietor. This store actually was not located in the Arlington Hotel; it was in the adjacent Gray Reid Wright Building. The address is 504 N. Carson St. Signs in the window advertise "Labor Day Tire Sale", "Back-To-School Bike Sale", "Save Now on Top Quality Tools", "Wizard Battery - Guaranteed 'til 1960", and "Best Tire Deal in Town". In the window are footballs and helmets and dinner plates, and a solitary wheelbarrow sits out front.
Next door is the Scheri Shop, Lingerie and Novelties. Ann M. Thoesen, proprietor. Next to that is Burlingtons Family Shoe Store. Then there's a barber shop tucked away in a little doorway.
Further down is the huge sign for the Coffee Shop Fountain. Hamburgers are only 30 cents. And finally, at the corner, is the entrance to the hotel lobby (where TAXI is painted on the column) and the Arlington Bar. Up above hangs the large Arlington Hotel sign, partially obscured.
All of this was demolished in 1966.
Actions
⇓ Download This Photo
⇓ Embed This Photo