| | |
| --- | --- |
| ← Previous Photo | Next Photo → |
Railroad map of Central California and Nevada
Date of photo: 1865
Photographer: C. Bielawski
Source: Library of Congress
Available Sizes: 800x367 | 1024x469 | 2048x939 | 5000x2294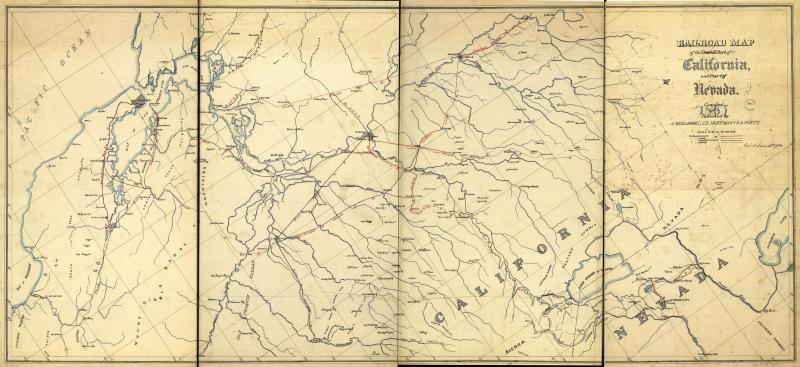 The 1865 map shows the railroads of central California and Nevada. This is before there were actually any railroads in Nevada, so all the railroads here are shown as proposed. The Central Pacific in 1868 and the "Virginia & Truckee River R.R." in 1869 were the only ones in Nevada that actually ended up getting built. But a careful look at the other proposed railroads that didn't make it is very interesting.
The "San Francisco & Washoe R.R." heads up what is now Highway 50, from Placerville to Lake Tahoe. It then comes down into the Eagle Valley, but does not go into Carson City. It stays along the foothills, and goes to the Washoe Valley where it meets up with the V&T. This railroad also has some interesting routes in the Lake Tahoe area. One route follows the Echo Summit route that we all know, making its way gingerly up and down the Sierra Crest. The other route actually tunnel under the steepest part of the Sierra. It's tough to line up this map exactly with modern ones, but the tunnel seems to go right underneath what we now know as the Desolation Wilderness, and comes out in the vicinity of Fallen Leaf Lake.
The "Washoe & V.C. R.R." goes from the Washoe Valley to Virginia City in the quickest way possible, as the crow flies. It travels up the Jumbo Grade, which was a popular wagon road, and into V.C. This route was never built, instead the V&T took the long way around, through Carson City and Mound House, to get up to the Comstock.
Also interesting is that the Carson and Colorado Railroad is shown on this map, traveling from Mound House down the Carson River to Fort Churchill. That railroad was not built for another 15 years after this map.
Actions
⇓ Download This Photo
⇓ Embed This Photo