| | |
| --- | --- |
| ← Previous Photo | Next Photo → |
Map of V&T Shops and Yards
Date of photo: 1916
Photographer: John T. McCreery
Source: Historic American Buildings Survey (Library of Congress)
Available Sizes: 800x531 | 1024x679 | 2048x1359 | 5000x3320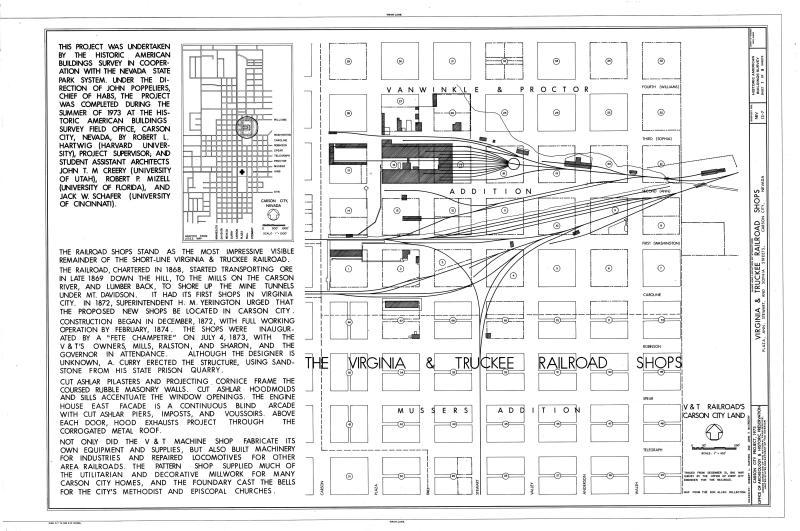 This map of the V&T's enginehouse, yard and trackage in Carson City was created in 1973 for the Office of Archeology & Historic Preservation, part of the U.S. National Park Service. It was part of a survey of Carson City's buildings done in the early 70s under the Historic American Buildings Survey. This map was created by Robert L. Hartwig and John T. McCreery by tracing a 1916 map of the railroad on top of a modern map of Carson City's streets.
The text on the left reads:
This project was undertaken by the Historic American Buildings Survey in cooperation with the Nevada State Park System. Under the direction of John Poppeliers, chief of HABS, the project was completed during the summer of 1973 at the Historic American Buildings Survey field office, Carson City, Nevada, by Robert L. Hartwig (Harvard University), Project Supervisor; and student assistant architects John T. McCreery (University of Utah), Robert P Mizell (University of Florida),and Jack W. Schafer (University of Cincinnati).
The railroad shops stand as the most impressive visible remainder of the short-line Virginia & Truckee Railroad.
The railroad, chartered in 1868, started transporting ore in late 1869 down the hill, to the mills on the Carson River, and lumber back, to shore up the mine tunnels under Mt. Davidson. It had its first shops in Virginia City. In 1872, Superintendent H.M. Yerington urged that the proposed new shops be located in Carson City.
Construction began in December, 1872, with full working operation by February, 1874. The shops were inaugurated by a "fete champetre" on July 4, 1873, with the V&T's owners, Mills, Ralston, and Sharon, and the Governor in attendance. Although the designer is unknown, A. Curry erected the structure, using sandstone from his State Prison quarry.
Cut ashlar pilasters and projecting cornice frame the coursed rubble masonry walls. Cut ashlar hoodmolds and sills accentuate the window openings. The engine house east facade is a continuous blind arcade with cut ashlar piers, imposts, and voussoirs. Above each door, hood exhausts project though the corrugated metal roof.
Not only did the V&T Machine Shop fabricate its own equipment and supplies, but also built machinery for industries and repaired locomotives for other area railroads. The pattern shop supplied much of the utilitarian and decorative millwork for many Carson City homes, and the foundry cast the bells for the city's Methodist and Episcopal churches.
Actions
⇓ Download This Photo
⇓ Embed This Photo