| | |
| --- | --- |
| ← Previous Photo | Next Photo → |
El Rancho Motel
Photographer: Unknown
Source: Flickr: hmdavid
Available Sizes: 800x344 | 1024x441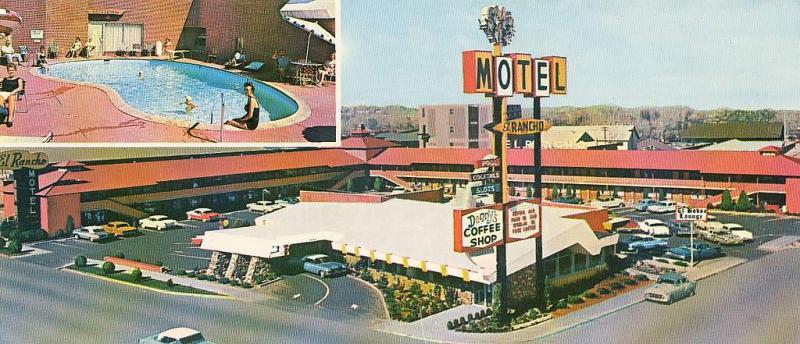 The El Rancho Motel at 777 East 4th St in Reno. The motel also had a Denny's coffee shop in the parking lot.
Actions
⇓ Download This Photo
⇓ Embed This Photo
Date Uploaded: April 9, 2023
Permanent Link: http://wnhpc.com/details/flickr3676832576
Contributor: hmdavid on Flickr
Source: Flickr: hmdavid
Source URL: https://www.flickr.com/photos/14696209@N02/3676832576/
Source Caption: Two El Rancho locations: 3310 South Virginia Road & 777 East 4th Street, Reno Back of postcard reads: "The El Rancho Motor Hotel at 777 E. 4th St., pictured on this card, features 82 luxurious, smartly appointed rooms and suites designed to accommodate the most discerning traveler. Countless extras include a 24-hour Cocktail Lounge, Restaurant and complete room service. Banquet and party facilities are available and, of course, our generous slot machines. For your convenience you will find each room furnished with complimentary In Room Coffee Service, T.V. and telephone. All units have individually controlled Air-Conditioning and Heating. You will enjoy swimming in our Heated Pool where restaurant and cocktail service is also available. Our other Motor Hotel location is at 3310 So. Virginia St. This is a beautiful 45-unit Motor Hotel with restful surroundings for a day or a month. You will find a large heated and filtered swimming pool, cocktail lounge, restaurant and bowling alley adjacent. These are just some of the facilities which have made El Rancho Motor Hotels a byword for rest and relaxation in the Reno area. Reservations are suggested. Color T.V. & King Size Beds Available." My goodness... what a dissertation/sales pitch. There's barely any room to write a message. They forgot to add "waaaay groovy Googie Armet & Davis designed Denny's with a porte-cochere"...
View on Flickr: https://www.flickr.com/photos/14696209@N02/3676832576