| | |
| --- | --- |
| ← Previous Photo | Next Photo → |
Downtown Reno Rooftop
Date of photo: 1978
Photographer: Unknown
Source: Flickr
Available Sizes: 800x365 | 1024x467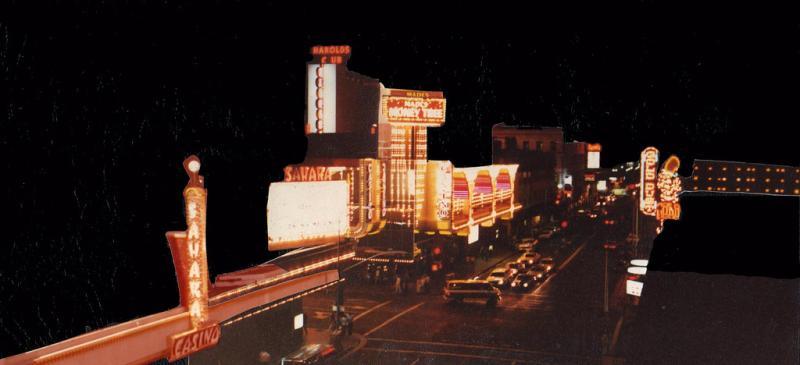 Downtown Reno, looking east on Second Street. Sahara Reno on the far left, Mapes Money Tree in the center, Gold Dust on the far right.
Actions
⇓ Download This Photo
⇓ Embed This Photo
Date Uploaded: March 11, 2009
Permanent Link: http://wnhpc.com/details/flickr3345963170
Contributor: jaydex (via Flickr)
Source: Flickr
Source URL: http://www.flickr.com/photos/34150198@N03/3345963170
Source Caption: taken from the roof top of the old senator hotel on 2-nd street in downtown RENO..it was 1978 man it was a great time to be in RENO the place was electric. My uncle howie owned the senator hotel and i worked the summer there, the Sahara was directly across the street, (where i saw George Carlin Live)..the Mapes money tree was in action at the corner, gold dust was swinging ON THE OTHER SIDE FROM THAT , not to mention the comstock casino on the corner on the other side in back of me here...., and shall i mention this was the year that circus curcus and the MGM GRAND opened there doors in RENO yes 1978 was a very magical year!
View on Flickr: https://www.flickr.com/photos/34150198@N03/3345963170