| | |
| --- | --- |
| ← Previous Photo | Next Photo → |
Carson City Downtown 1920s
Date of photo: 1920s
Photographer: Unknown
Source: Flickr
Available Sizes: 800x573 | 1024x734 | 2048x1468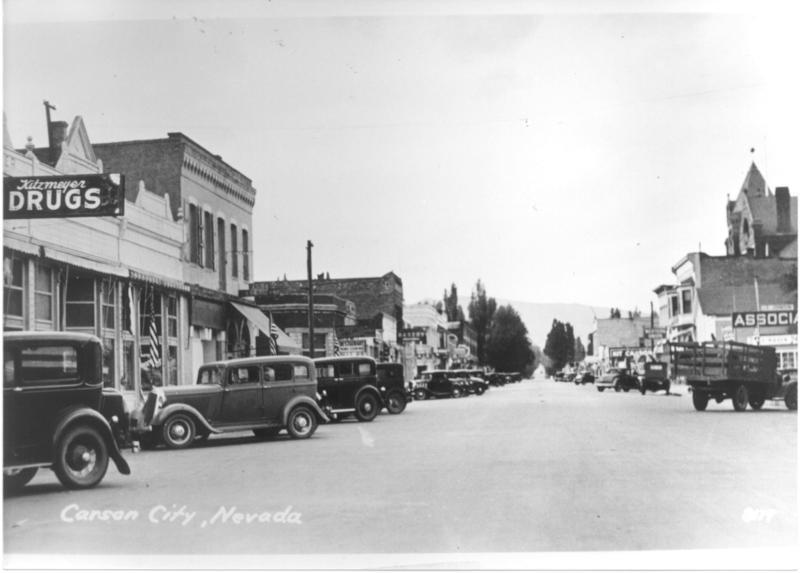 This is a look north on Carson Street from the late 1920s. On the left is the sign for Kitzmeyer's Drugs. Next to that an American flag hangs loosely in the doorway of another store, and at the corner the sign for the Eagle Meat Market can be seen above the awning.
Across the street at the corner of Proctor there is a restaurant housed in the future Lucky Spur building, and beyond that a bakery. Is the distance the Arlington Hotel can be seen, and the trees surrounding the U.S. Mint.
On the right the tower of the Post Office rises above the Sweetland block, although at the far right of the photo you can see that the Sweetland Building has not yet been built. There is still a one-story building with a pitched roof at that corner. There is also a Western Union office there, and beyond that a sign for the Kit Carson Club that predated the Nugget.
There are plenty of cars parked on Carson Street, indicating a thriving downtown, but the street itself is deserted.
Actions
⇓ Download This Photo
⇓ Embed This Photo