| | |
| --- | --- |
| ← Previous Photo | Next Photo → |
Car at Carson and Fifth Streets
Date of photo: 1956
Photographer: Unknown
Source: Flickr
Available Sizes: 800x550 | 1024x704 | 2048x1409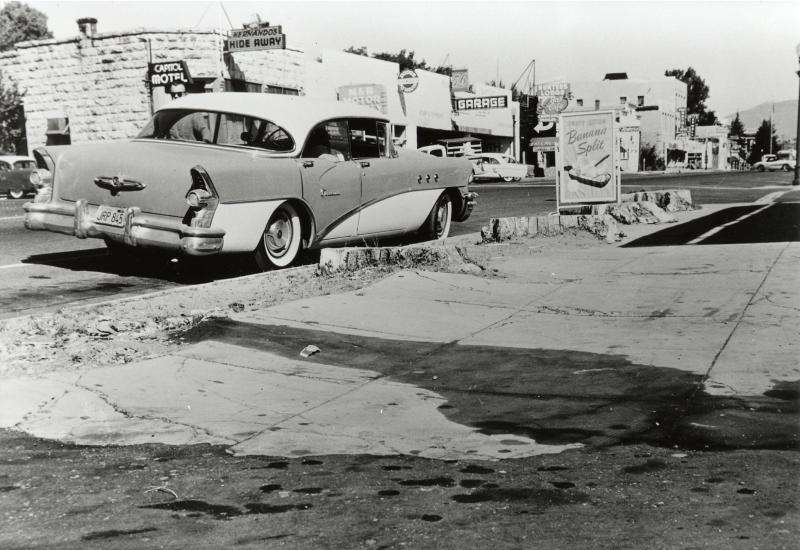 This view looks northwest at the corner of Carson and Fifth Streets. A classic car parallel parked on Carson Street dominates the center of the picture. Much of the bottom of the photo is taken up by an ugly cracked lumpy parking lot. On the far right of the photo you can see the shadow of the Dairy Queen that is just out of frame to the right. A few tree stumps line the curb where the car is parked.
The most interesting part of this picture is the strip of businesses in the background, along the west side of Carson Street. Starting on the left is Hernando's Hide Away, in the stone building that later housed Jack's Bar. A sign hanging off the side points to the Capitol Motel, one block back. Next door is the M&R Motor Supply and the Roventini automotive repair garage, and beyond that is the Hunter's Lodge bar and cafe. The Hunter's Lodge advertises cocktails, a charcoal broiler, and free music.
Further down the street, past Fourth Street, is the Pony Express (also known as St. Charles) Hotel, with the Mite As Well bar on the corner and a Greyhound bus sign hanging out front. Parking meters line the street along that block. Past that the photo gets too fuzzy to make out details.
Actions
⇓ Download This Photo
⇓ Embed This Photo