| | |
| --- | --- |
| ← Previous Photo | Next Photo → |
V&T at the Depot
Date of photo: 1940s
Photographer: Unknown
Source: Facebook: Martin Hansen
Available Sizes: 800x563 | 1024x721 | 1222x860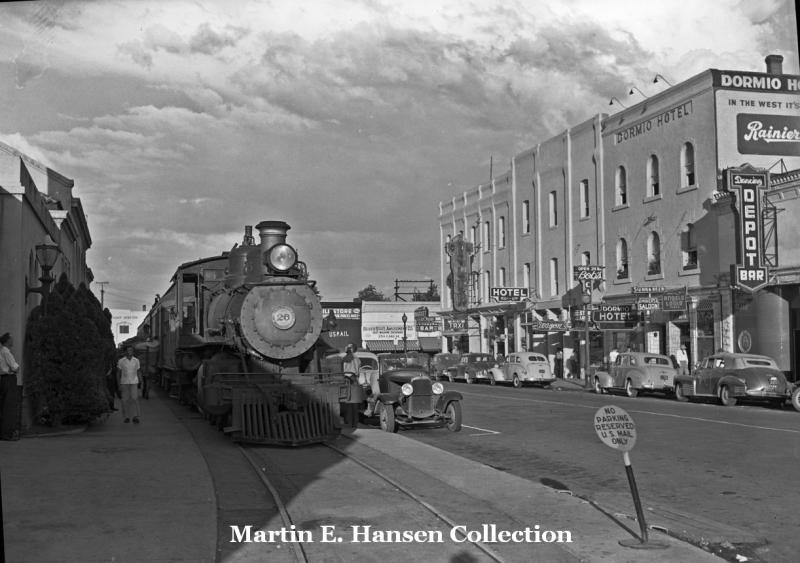 Virginia & Truckee engine #26 sits at the passenger depot in Reno. The V&T tracks were along Commercial Row. The Owl Club and Dormio Hotel are across the street, along with several other businesses.
Actions
⇓ Download This Photo
⇓ Embed This Photo
Date Uploaded: February 12, 2023
Permanent Link: http://wnhpc.com/details/fb6156133641071504
Contributor: Martin Hansen on Facebook
Source: Facebook: Martin Hansen
Source URL: https://www.facebook.com/photo/?fbid=6156133641071504&set=a.524742344210690
Source Caption: Here is a classic scene from downtown Reno, Nevada in the late 1940's. Virginia & Truckee 4-6-0 #26 has just arrived in the late afternoon at the Southern Pacific Station on her run from Carson City. Once she drops off her passengers, she will head for the single stall enginehouse at the edge of town for the night. The next morning she will head back to Carson City with another mixed train of passengers and freight.