| | |
| --- | --- |
| ← Previous Photo | Next Photo → |
Spooner Summit
Photographer: C. E. Peterson
Source: Facebook: Stephen Gennerich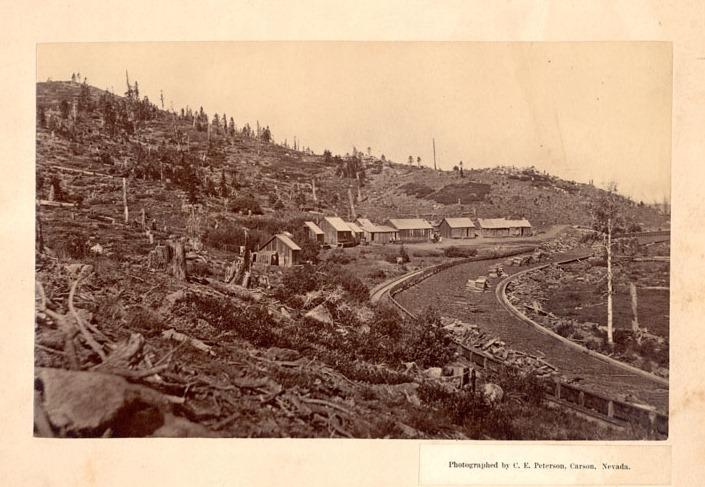 In the 1800s, Spooner Summit was the point where logs from the mills at Glenbrook were unloaded from train cars and loaded into a flume to be sent down to Carson City. Both the flumes and the railroad tracks can be seen.
Actions
⇓ Download This Photo
⇓ Embed This Photo
Date Uploaded: April 29, 2020
Permanent Link: http://wnhpc.com/details/fb3690274217712164
Contributor: Stephen Gennerich on Facebook
Source: Facebook: Stephen Gennerich
Source URL: https://www.facebook.com/photo.php?fbid=3690274217712164&set=gm.1352561388284961&type=3&theater&ifg=1
Source Caption: Welcome to all the new people who enjoy the history of the region. Please no advertising. This is a history only page that means no contemporary news. I know that sometimes people may put the wrong information out or they me be misunderstood, please show respect to others. this page is about the history of Tahoe and the surrounding area. You are not required to press the Like button we are not fi...shing for that. You are not required to comment if you don't feel like it. You don't have to post a photo. We have a number of historians who like to contribute to the page who have done a fair share of research and we very much appreciate that. This photo is of Spooner Summit Camp around 1875. Highway 50 runs right through here today. You may notice there are very few trees. The forest has been denuded of trees. In fact most of the trees at Tahoe are second growth. The relationship between the lake the Virginia City mines is remarkable. I will have more to say about the lumber companies going forward. I think this is a UNR photo but not sure.