| | |
| --- | --- |
| ← Previous Photo | Next Photo → |
Virginia and Truckee #27
Date of photo: 1971
Photographer: Paul M. Newitt
Source: Facebook: Paul M. Newitt
Available Sizes: 800x546 | 1000x683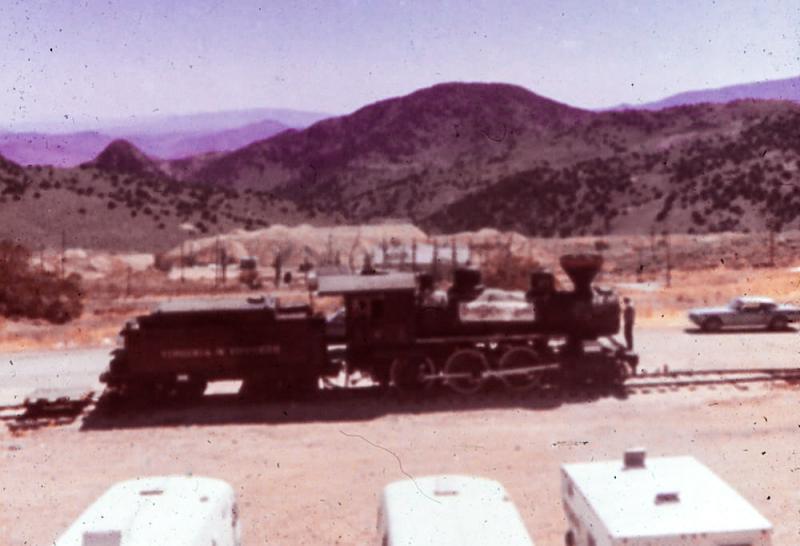 In the 1970s and 1980s, Virginia and Truckee Locomotive #27 was on display in Virginia City. It was displayed on the former site of the railroad's passenger depot. In 1993 it was moved to the Nevada State Railroad Museum where it underwent a cosmetic restoration.
Actions
⇓ Download This Photo
⇓ Embed This Photo
Date Uploaded: January 28, 2021
Permanent Link: http://wnhpc.com/details/fb2754075041476186
Contributor: Paul M. Newitt on Facebook
Source: Facebook: Paul M. Newitt
Source URL: https://www.facebook.com/groups/808084679229190/permalink/3623692281001735/
Source Caption: "Old 27 Comes Home" was the banner on No. 27 as it sat in Virginia City in the late summer of 1971. Note the fake stack still there, and a missing pilot. These are pictures I took at age 15 with my "Kodak Instamatic". My family would take occasional trips to VC from where we lived, near Sacramento (my father was a brakeman on the Nevada Northern, up to WWII, and my grandfather was a conductor in the 1930s and 40s--they lived in Ely).