| | |
| --- | --- |
| ← Previous Photo | Next Photo → |
Tallac Resort Map
Photographer: Unknown
Source: Facebook: Stephen Gennerich
Available Sizes: 800x472 | 916x541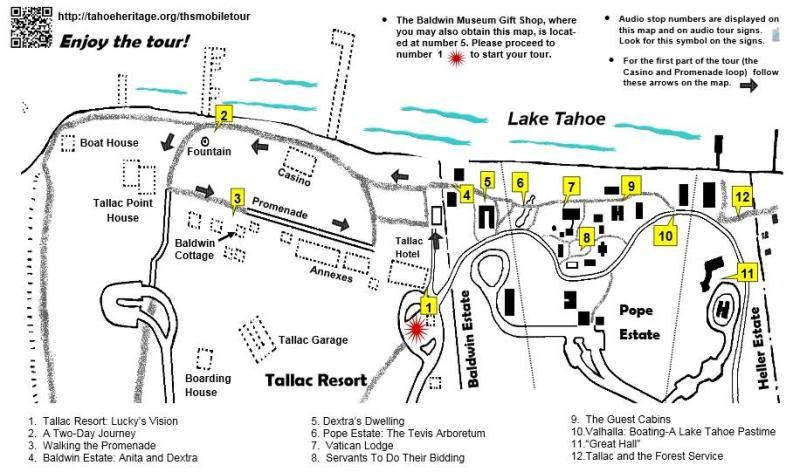 A map of the Tallac Resort/Pope Estate on the south shore of Lake Tahoe. The black buildings still exist; the dotted lines denote buildings that were torn down. The whole estate is now a historical area.
Actions
⇓ Download This Photo
⇓ Embed This Photo
Date Uploaded: October 13, 2017
Permanent Link: http://wnhpc.com/details/fb1407226649350277
Contributor: Stephen Gennerich on Facebook
Source: Facebook: Stephen Gennerich
Source URL: https://www.facebook.com/photo.php?fbid=1407226649350277&set=gm.628044910736616&type=3
Source Caption: This is a map of the Tallac Resort and Pope Estate next to it. This is all in the area of Camp Richardson on Tahoe's south shore. You can see from this map exactly where the three large buildings were along with all the out buildings. The casino is clearly seen on the beach. The main building is the Tallac Hotel by the number 1. The original building built by Yank Clement is referred as the Tallac Point House over to the left, you could actually walk down the Promande to Tallac House from the hotel. All the buildings to the left were torn down by Anita Baldwin after Lucky Baldwin died. The advent of the automobile basically wiped out the steamer business due to the completion of the road around Lake Tahoe. Apparently when Tallac business dropped it was no longer affordable to maintain the resort. The buildings to the right in dark colors are still there and there is walking tour that you can access using a smart phone. If you haven't been there its a great see.