| | |
| --- | --- |
| ← Previous Photo | Next Photo → |
Hotel Mapes
Date of photo: 2000
Photographer: Unknown
Source: Facebook: Bill Cheryl Welsh
Available Sizes: 571x800 | 686x960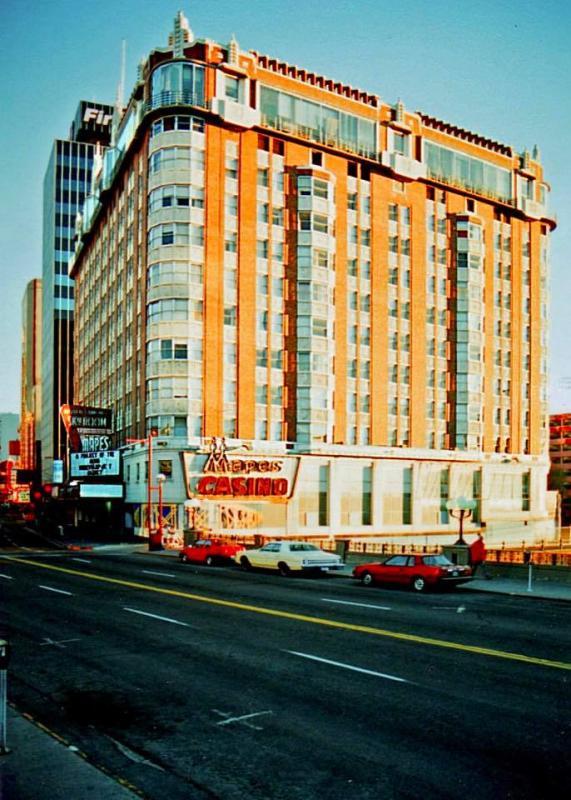 The Hotel Mapes in downtown Reno, just before its demolition in 2000.
Actions
⇓ Download This Photo
⇓ Embed This Photo
Date Uploaded: November 25, 2020
Permanent Link: http://wnhpc.com/details/fb10219418730133266
Contributor: Bill Cheryl Welsh on Facebook
Source: Facebook: Bill Cheryl Welsh
Source URL: https://www.facebook.com/photo/?fbid=10219418730133266&set=a.5001132120399
Source Caption: Mapes Hotel Casino 1947-2000. I captured this image just a few weeks before the grand old lady was imploded on Super Bowl Sunday, 2000.The hotel was the tallest building in Nevada at the time of completion with 12 stories, 300 rooms and 40 suites. Many of you will remember the Skyroom on top. The Mapes family first arrived in the truckee Meadows around 1860 and became very successful in the cattle business. Heritage runs deep.