| | |
| --- | --- |
| ← Previous Photo | Next Photo → |
Wells Avenue Underpass
Date of photo: 1940s
Photographer: Unknown
Source: Facebook: Bill Eaton
Available Sizes: 800x634 | 900x714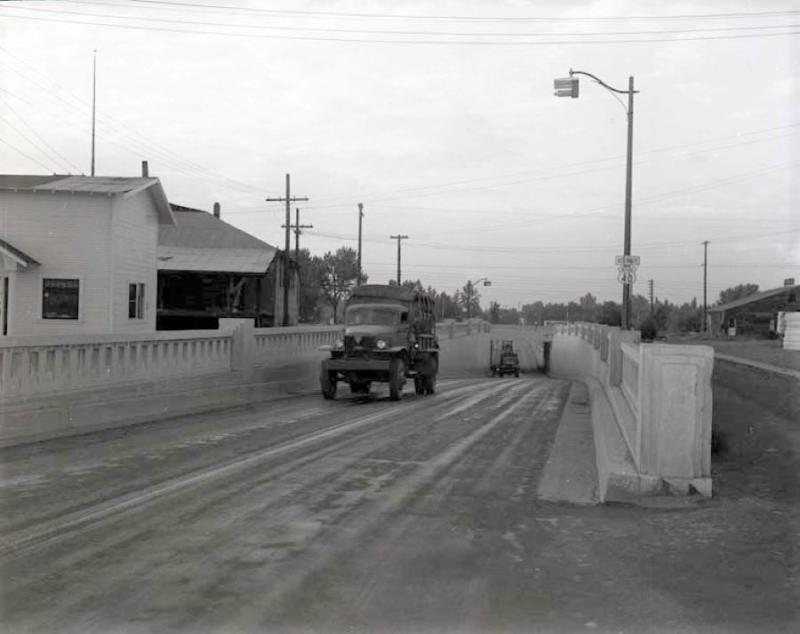 From the 1930s to the 60s, Wells Avenue in Reno passed under the Southern Pacific railroad tracks at this narrow underpass. On the far side of the tracks the road crossed a bridge over the Truckee River.
Actions
⇓ Download This Photo
⇓ Embed This Photo
Date Uploaded: January 25, 2021
Permanent Link: http://wnhpc.com/details/fb10218422772909006
Contributor: Bill Eaton on Facebook
Source: Facebook: Bill Eaton
Source URL: https://www.facebook.com/groups/sgennerich/permalink/1559603550914076/
Source Caption: Found a photo showing military trucks somewhere in Reno during WW2. The U.S. 40 sign on the pole at right has an "Alternate" sign above it so I got to looking around to see where this was. It's North Wells Avenue looking south from East 4th Street toward the Truckee river. Highway 40 split into two routes as you entered Reno from the west, the main route was along 4th Street while 40 Alternate ran along 2nd. At Wells, 40 Alternate turned north to cross the river and then ducked under the Southern Pacific railroad tracks, seen in the background of the old photo, and rejoined the main route at East 4th Street. In preparation for the coming freeway, in about 1966-67, a new overhead was built that crossed the river and the SP tracks and the old 40 Alternate subway was completely eliminated. The two buildings at left in the old photo are still there.