| | |
| --- | --- |
| ← Previous Photo | Next Photo → |
Reno Depot
Date of photo: 1910
Photographer: Stanley Palmer
Source: Facebook: Nevada State Railroad Museum, Carson City
Available Sizes: 800x459 | 1024x588 | 1875x1078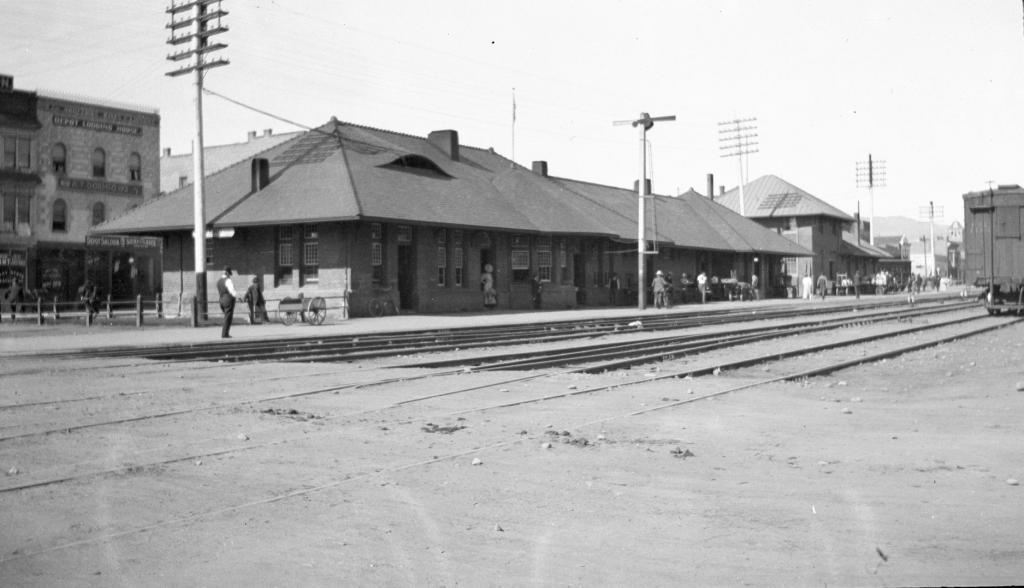 The Reno train depot in downtown Reno. The is the Southern Pacific side of the depot. The V&T Railroad tracks were on the opposite side of the building. This was the third depot built on this site. It was erected in December 1889.
Actions
⇓ Download This Photo
⇓ Embed This Photo
Date Uploaded: May 30, 2020
Permanent Link: http://wnhpc.com/details/fb10157414240485669
Contributor: Nevada State Railroad Museum, Carson City on Facebook
Source: Facebook: Nevada State Railroad Museum, Carson City
Source URL: https://www.facebook.com/NSRMCC/photos/a.10150660061400669/10157414240485669/?type=3&theater
Source Caption: The Central Pacific's third depot in Reno was completed in December 1889. The new depot, a one-story structure, stood in contrast to the Depot Hotel. It covered the same footprint as the Depot Hotel, but featured massive brick walls and a low projecting slate roof. Included in the depot were all the typical amenities such as a waiting room, a baggage room, a telegraph office, and a ticket office. Missing were hotel rooms, a lunch counter and a bar, all of which could be found at various establishments along Commercial Row. The depot was simply a depot. This photo was taken by Stanley Palmer circa 1910. The third depot was replaced in 1926 by a modern structure that was in the works for years.